Heat pumps offer an alternative to other home HVAC systems. Heat pump home heating and cooling systems are very popular across the State of Texas because they can cool your home as well as heat it. Read on to learn more.
WHAT YOU NEED TO KNOW ABOUT USING HEAT PUMPS IN TEXAS
There are many advantages of using a heat pump HVAC system in your Texas home. In cooler months, heat pumps work by pulling heat into your home. In warmer months, they work by removing heat from your home. "They are an energy-efficient alternative to traditional furnaces and air conditioners with a lower carbon footprint.  By utilizing "staging" and "variable speeds" heat pumps have the ability to control your indoor temperature and humidity with consistency and comfort throughout the year in both hot and cold climates," as described by The South-central Partnership for Energy Efficiency as a Resource (SPEER).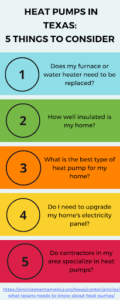 WHY TEXANS VALUE HEAT PUMPS HVAC SYSTEMS
Because heat pumps can be used for both winter heating and summer cooling,. Texas homeowners can depend on them for year-round temperature control. Further, heat pumps are efficient; they are good for the pocketbook because their efficiency allows for reduced energy costs. And heat pumps also are a popular choice for Texans because they are fairly low-maintenance and very reliable–if they ever do need to be replaced, it is often less expensive to replace the single system than the traditional combination of one air conditioner and one heater.
TYPES OF HEAT PUMPS
There are several types of heat pump HVAC systems. Geothermal heat pumps are used when heat transfer can originate from the ground or water. Absorption heat pumps use thermal energy as their source. Air-source heat pumps are the most common; they operate based on the principles of heat transfer from the air only, and can be ducted or ductless (e.g., mini-split heat pumps). 
If you are interested in learning more about using a heat pump for your South Texas HVAC needs, reach out to The Coolest LLC, a reputable and professional HVAC installation and maintenance company based in Austin, Texas. The team of experienced HVAC specialists at The Coolest is ready to provide professional advice and customized recommendations to you. Contact The Coolest LLC today to troubleshoot your heat pump issues and to discuss any other HVAC needs you have.